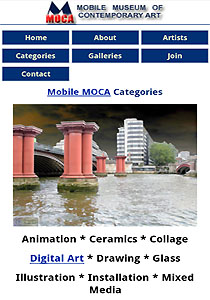 Smartphones and other Mobile Devices are becoming an important part of our life. A research study from the Pew Internet and American Life Project shows that in 2011, 84% of U.S. adults have a cell phone compared to 55% who own a laptop. The percentage of cellular phone users who are turning to their mobile devices to access the Internet is on the rise. 44% of adult cell phone users use their phone to access the Internet.
Artists and galleries must seriously consider the mobile web when developing strategies for reaching clients through the Internet.
Developing a mobile-optimized website helps ensure that the growing group of mobile Internet users, which includes art collectors, is able to effectively access your gallery's web-based services and your artworks.
Designing your art website for the Mobile Web will allow your visitors to view properly your artworks.  Regular websites designed for standard laptop or desktop computers are more complex but could not be viewed on the mobile devices' screens without extensive zooming and scrolling. Understanding how the mobile web is different than the traditional web is important when creating a mobile website.
Here are some tips about how to design an efficient user-friendly mobile website:
Mobile websites should have more optimized imaging and less text to capture the interest of the site's visitors.
The web pages should not be too big in order to load very fast. Mobile devices have restrictions on the page size they can accommodate. On the other hand, if pages are too small the user will be required to load several pages to read the entire information. The balance between pagination and scrolling is necessary.
The screen size of a smartphone is small compared to a computer, and your site's visitors should enter the minimum information on their device. Big buttons and pre-filled forms are always preferred by the mobile users.
Only small size pages can be delivered to devices with memory restrictions not to mention that some devices offer a poor scrolling experience.
It is becoming easier to browse the web from almost anywhere now when the mobile web is becoming the next major Internet platform. Mobile web has evolved from the first mobile browsers with very limited capabilities to the sophisticated modern mobile browsers. However, optimized layout, navigation, and usability are key parameters to mobile website design. For example, navigation on a mobile site should include large buttons with extra spacing, buttons instead of text links, and less options.
Since horizontal scrolling is not possible on many mobile browsers, you should break large content into sections and create designs that do not require horizontal scrolling.
Mobile screens are not as powerful as a desktop or a laptop screen and can display only a limited range of colors. Not all colors show up well on a mobile device and because of that it could be difficult to read. Mobile phone screens also have limited contrast and shallow color depth.  Therefore, when you design a mobile site, you should work with  a limited number of colors and avoid gradients.
Visual quality contributes to the usability and functionality of your mobile website. Images and Graphics on a mobile website should be optimized and in .GIF, .JPEG, or .PNG format. If they are too large it will take too long to load on smartphones.  Size and compress your images properly for a good mobile web experience.
If you need help with your website for art optimized for the Mobile Web, contact eMarketing 21.